Standard Department Prints Matted Print, 14x16 $60 Premium Framed Print $185 Personalized Framed Print $199 All of our standard police prints feature full-color illustrations of the car and badge set on a black & white backdrop depicting either the city skyline, the local police station, or a highly recognizeable landmark. Depending on the badge for the individual department, the prints can be personalized with the addition of rank and/or badge number at no extra cost. Measuring 14x16, the prints come matted & bagged, ready for framing. Framed prints are also available with double-matted Premium framing. The Premium frames also have the option of adding a personalization box for only $14 more. The available prints are categorized by state on the menu at the left so it is easier to locate the department you are looking for.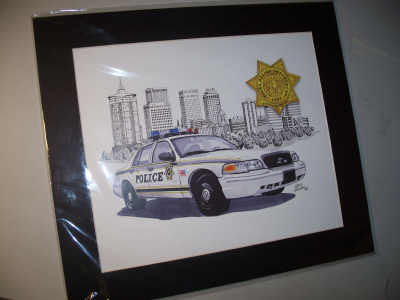 Challenge Coin Matted Prints Matted Print, 11x14 $60 Premium Framed Print $165
All of our standard police prints are now available in a great new product! Challenge coin mats are designed to hold both a smaller 6.5 x 7.5 department illustration, as well as a challenge coin from your department. Measuring 11x14 overall, this dynamic new presentation is sure to look great when displayed in your home or office. (Coin not included)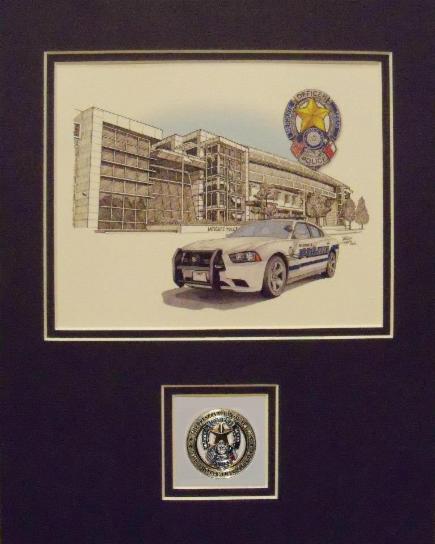 Police Academy Diploma Prints Matted, 22x16 COMING SOON! Framed COMING SOON! Combining both an Academy Diploma and a Department Print in one mat, these are perfect for recent academy graduates, or any officer looking to display their academy diploma.
Fundraising Prints Matted, 8x10 , Pack of 50 $250 These smaller 8x10 prints come in packs of 50, and are intended to be sold as fundraisers (MSRP $10). They can be customized to read "Proud Sponsor of the (blank) Police Department" and sold to local businesses, shop owners, and private citizens. They also make great gifts from the Department to officers and other personnel.
Hat & Badge Charcoal Drawing Matted Print, 14x16 $55 Premium Framed Print $180 Beautifully illustrated on grey-tone paper, with both black & white charcoals, these prints were originally designed as fundraisers for an injured officer in Oklahoma City. Now available for anyone, they look great in any office, or displayed at home.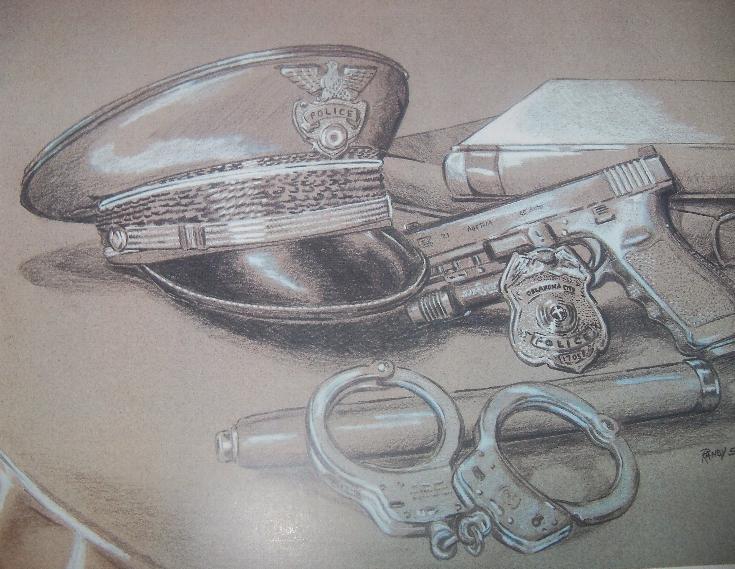 Officer & Flag Full-Color Illustration Matted Print, 14x18 $50 Premium Framed Print $185
Full-color charcoal and colored pencil rendering of a Police Officer, with a badge and the American Flag. The badge reads "To Serve And Protect". By popular demand, a new version of this print with a female officer has just been completed, and will be on sale soon!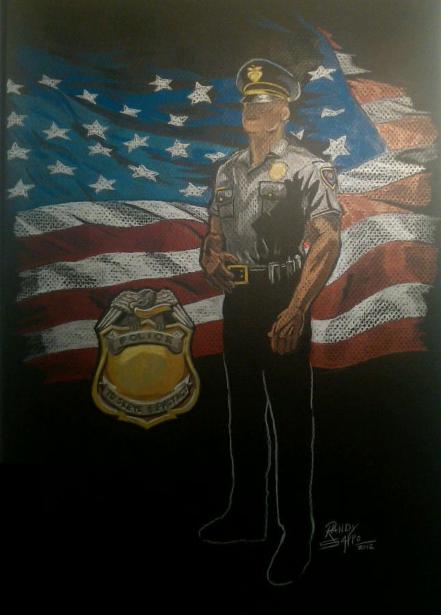 Can't Find Your Department? If we don't currently have the municipality you are looking for, no problem. E-mail us concerning your department, and we'll be more than happy to discuss the possibility of adding your police department to our collection. Keep in mind that no department is too big or too small. We have done work for many different departments ranging in size from as few as 10 officers to well over 1,000 officers!